While I was in Austin over Christmas break my sister made us a greek salad for dinner, which reminded me just how much I LOVE greek salads.
They are simple, delicious, and full of good nutrition. Ever since then I have been wanting to make one. Last night I decided to make a delicious greek salad for dinner, but I decided take my own spin on it. Well, guess what? It turned out kind of amazing. It is such a simple meal, but totally filling. It is full of protein, fresh produce, and good fats. It is an easy make ahead meal that you could pre-chop and mix together right before it's time to eat. Promise you'll love it.
Greek Chopped Chicken Salad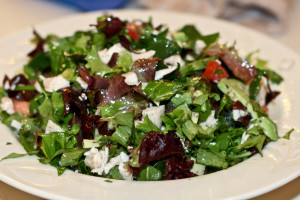 Ingredients for salad: 4 oz cooked/shredded chicken breast, (I used rotisserie chicken) 1/4 an avocado chopped, diced tomatoes, diced olives, a few cups of your choice of lettuce chopped (I used a spring mix w/spinach). You could also add chopped cucumbers, sunflower seeds, and feta if you like!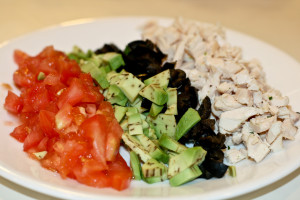 Ingredients for dressing: 1 part red wine vinegar, 2 parts olive oil, 2-3 tsp garlic salt, 1 tsp ground black pepper, 1-2 tsp Lowry's season salt. (I put this in a mason jar and shake it to combine) This will make more dressing than you need for one salad, but it will keep great in the fridge.
Combine lettuce, chicken, avocado, tomatoes, and olives in a bowl. Drizzle with dressing and toss to combine.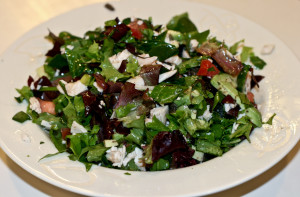 I had this for dinner last night and made it again for lunch today because I liked it so much! It is light, flavorful and filling! SO TASTY!